Welcome to SS. John and Paul Parish
Washington, MI
Mass Times
Weekend Masses
Saturday 5:00 pm
Sunday 8:00 am, 9:30 am, 11:30 am
Weekday Masses
Monday 7:00 pm
Tuesday, Wednesday 9:00 am
Reconciliation
Saturday 4:00-4:30 pm
and after the 5:00 pm Mass
Fr. Festus 25th Anniversary Celebration~ Sunday June 24th at 11:30am Mass
-
Make plans to join us on Sunday June 24th at the 11:30am mass as we celebrate the 25th Anniversary of ... view more
Mass with Anointing of the Sick, Monday July 30
-
Join us on Monday July 30th at 7:00pm for mass, with Anointing of the Sick.
Vacation Bible School~ July 16-20, 2018
-
Register now for Vacation Bible School (VBS), held July 16-20, 2018 from 9:00am - 12:00pm.  This year's theme is : ... view more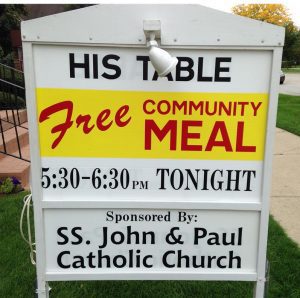 Serve a Meal for His Table~June 19 at 5:30pm
-
Please help serve a free meal to those individuals and families facing economic struggles at the Romeo United Methodist Church ... view more
Tai Chi~3pm on Thursday
-
Join us on Thursday's at 3:00pm in the large social hall for Tai Chi.
myParish App