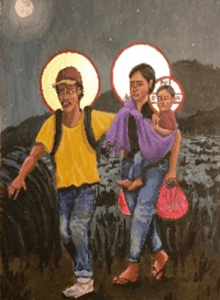 Immigration, Then and Now~Wed. Oct. 24th at 7:00pm
-
In reaching out in compassion to follow our Gospel teachings regarding migrants, come meet Anthony Ray, an immigration attorney who can answer your questions to a complex situation and ENJOY some Mexican refreshments: Why is it so hard to become a citizen? What is the difference between a visa, green card and U.S. citizenship? Do migrants receive government financial assistance? What happens to the US Citizens after parents are deported?
Blood Drive~Sunday November 4~8:00am-1:45pm
-
SS. John and Paul will sponsor an American Red Cross Blood Drive on Sunday Nov. 4 from 8:00am-1:45pm.  Appointments for blood donation are encouraged and can be made by visiting http://www.redcrossblood.org. Our code is ssjpch.
It's Socktober!
-
During the month of October, we are collecting new socks for Samaritan House. You can drop off socks in the basket in the gathering space, only until October 31st.